Spelling Bee Ninja – How to Win Spelling Bee
Welcome to spelling bee ninja.
Do you want to win the spelling bee this year?
Are you looking for a tool to help you to be the next Spelling star?
Stop searching then…You finally landed in the right place.
Here you can use our free training system Spelling Bee Ninja,
The first and most powerful spelling bee training system.
You won't find anything that powerful, guaranteed.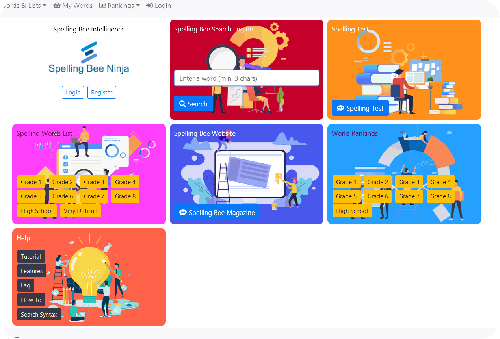 Why you need a Spelling Bee training system?
Each year thousands of American and international schools around the world organize spelling contests, commonly known as "Spelling Bees." Students work tirelessly to achieve good results in their spelling bee competitions, but they are often disappointed with their performances.
The main reason is that because students lack the proper training tools. It's a little like practicing the game of football, for hours and hours a week, without a ball!
To master and win spelling bee contests, like any other activity,
You need to train in the right way!
If you don't train yourself the right way, no matter how hard and how many hours you study…
We detected this problem and we decided to create the first professional spelling bee training system, and you know what? you can use it here for free.
Our systemis the first attempt in that sense.
Finally, we developed the proper training tool to master spelling bee.
Spelling Bee Ninja is the #1 and only Training tool for spelling bee players.
It is a spelling bee training system that delivers real spelling bee help and has been designed with the precise intent of training students to master spelling bee words so they can be serious competitors.
Yeah we know you already came across websites and apps that offer simple spelling quizzes, this is not our case:
Spelling Bee Ninja software has been designed using carefully considered methods that can lead to dramatic spelling improvement, quickly.
Are you ready to Win the next spelling bee competition?
It costs you nothing, but it will skyrocket your chances to win.
Boost your spelling bee skills:
Spelling Bee Ninja offers training sessions that simulate real-world spelling bees.
Once a difficulty level is chosen by a student, the software will select a series of words and verbally announce these. Students type in their responses, which are promptly checked for accuracy. As in real-world spelling bee competitions, the student has the option to ask for the word to be repeated or for the word's definition.
Results Analysis:
At the end of each test a result report card will be presented that highlights any misspelled words and gives the student the possibility to add them to a "study list", the study list must be used then to study and learn the misspelled words and the words contained in it can be used as input for a new spelling test. The report card will present, among other things, the correct answers, and the percentage score attained.
Expansive dictionary:
We analyzed and classified thousands of spelling words.
The Official Dictionary bundled with the software contains thousands of spelling words that are classified by school grade (K-8 and above) and difficulty. Teachers and parents who are passionate about engaging in the learning process can also import their own custom created dictionaries and study lists. The import feature can even parse arbitrary text snippets, assess malformed words and special characters, and generate additions to custom dictionaries.
Motivational rankings and certificates:
When students achieve spelling bee mastery the software will produce beautiful, customized Certificates of Achievement that motivate and reward them for their efforts. If completed tests are "Official" (i.e. words were sourced from an Official Dictionary), the score will be published among the Spelling Bee Ninja World rankings, and potentially lead to the issuance of an official "Spelling Bee Ninja Certificate."
Spelling Bee Ninja Plans:
Check the different SBN study plans here